Digital Mortgage ROI Case Study
Learn how a top-ten mortgage lender saves $1,500+ per loan with Cloudvirga Enterprise Point-of-Sale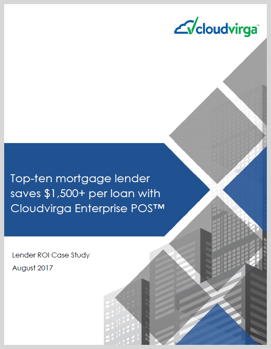 In this digital mortgage ROI case study, you will learn how Cloudvirga reduces mortgage costs in 3 ways for one of the top 10 U.S. lenders
1. Empower borrowers and loan officers
By allowing borrowers to complete ore steps independently and enabling loan officers move applications closer o fulfillment, Cloudvirga gets borrowers to commit faster and saves lenders money by increasing efficiency and loan pull-through.
2. Use data and intelligence at the point of sale
Using real data from the start eliminates wasting time working of erroneous assumptions, and the built-in intelligence streamlines operations and delivers product recommendations.
3. Automate back-office task at the point of sale
Cloudvirga automates complicated back-office tasks up front, removing costly and error-prone manual activities to establishing loan quality at the point of sale so downstream operations are more efficient.